came faster that i expected and it's perfect length and volume i will take a picture later when I wear it coz i ordered many wigs i gat try one by one so far so good
Parcel received in less than 1 week. Super fast. Very soft hair. Received with a gift in addition to the headband. Thank you to the seller
product details
Product Details
Human Hair Type
ponytail

Hair Color
Natural Color #1B #27  #T1b/4/27
Texture
afro kinky straight

Hair Length
16-30inches

Pack
1 bundles
Hair Weight
95-100 Gram/Bundle
Hair Material
100% Virgin Human Hair
Can be dyed&bleached:
Yes
Last For:
More than one year
Pay With Credit/Debit Card
     
The available credit card options are listed above. The credit card companies listed above are the most commonly used credit cards on this website. Do not worry if your credit card company is not listed, we encourage you to go ahead and make the purchase.
Please note that Jessie's Selection does not collect your credit/debit card number or personal information when you make a payment. For questions regarding your transactions on our site, please consult your card-issuing bank for information.
Pay With Paypal

When you place an order with Paypal you will be redirected to the PayPal payment page, where you can confirm your payment by logging in with your PayPal username and password.
You may still check out even without a PayPal account. To do so, please click on "Pay with Debit/Credit Card" and you'll be redirected to a secure page where you can enter your credit card information or complete your payment safely via PayPal.
*For purchasing over $1000 (or purchase >=3 items at one time), we only accept Western Union, Money Gram and bank transfer payment methods.
Pay With Western Union

Jessie's Selection western union payment info:
Address:Yan'an South Road,No.2400,Xuchang City,461000,China
First Name:CAIYUE
Last Name:XUAN
After making payment , please inform us transaction No. first name and last name so we can proceed with your orders, thanks !
Pay With MoneyGram

Jessie's Selection MoneyGram payment info:
Address:Yan'an South Road,No.2400,Xuchang City,461000,China
First name:CAIYUE
Last name:XUAN 
After making payment , please inform us transaction No. first name and last name so we can proceed with your orders, thanks !
Shipping Policy
1. We do Free Shipping for all orders worldwide.
2. We ship your order by
TNT,DHL,UPS
or
FedEx
. 
3. If your shipping address is P.O Box or APO/FPO address, we can ship your item by Post Office. But it takes longer time to reach you,about 7-10 business days.
Regarding potential delivery delay due to the impact of COVID -19.
Custom Taxes:
We ship all items marked as 'gift' or 'sample', and we also write a lower value on the invoice to avoid tax/duty.If you were charged tax by your local Custom, we would like to help you to go through the Customs. But the tax will be paid by the buyer.
Processing Time:

A. Stock item will be sent within 48 hours after payment.
B. Custom Order for Lace Wigs:
Processing Time: 3-10 working days
APPROXIMATE DELIVERY TIME
    UNITED STATES

 

       

CANADA

 

       EUROPE
    AUSTRALIA
        AFRICA
       OTHERS 

             2-4

            

3-5 

         

4-7

         

4-7

          5

-10

           7-15

     business days 

    business days

   business days

    business days

    business days

    business days

We'll email you the custom order number and estimated delivery time after receiving your order. After the hair is ready, we'll send you another email with tracking number.
Can i change the delivery address of my package?
Yes, you can. However if the package has left the factory, the additional fees may apply which should be born by buyer.
How to track my order?

1.Tracking number will be sent via email once the order has been arranged or shipped. So please leave us valid email address.
2.We share a strategic cooperation relationship with the world's popular express company DHL & FedEx. You can track your package on the website as below,
TNT:www.TNT.com
DHL: www.DHL.com 
UPS:www.UPS.com
FedEx: www.FEDEX.com 
If you have any concerns about your order or our hair, please feel free to contact us. And we'll reply you within 24 hours.
Our email address is: jessiesselection@gmail.com 
It is important to us that you are completely satisfied with your purchase.
For the Exchange & Return Policy,the time frame is within 30days.

If for any reason you do not absolutely love the item you ordered,
we gladly offer returns and Free exchanges service.
the policy is as follows:
1.Please do not cut the lace, make sure the wig is unaltered, unworn, unwashed, undamaged and in original packaging within 30 days.

2.Before shipping back, please email us firstly for the shipping address.
We have all the rights to refuse the package if you send it back without our permission.
3.Customers are responsible for the return shipping charge.
after we receive the package and confirmed it is in original status,
               the refund will be processed in 1-7 business days.
4.Custom made orders can't be exchanged and returned except for our mistakes.

Exchange policy

1.Email jessiesselection@gmail.com within 30 days after receiving your package to make an application for exchange.
2.Emails received after 30 days will not be taken into consideration.

3.Please email us with photos of the hair for our reference.
We will reply with return instructions after confirming it's in consistency with our policies.
4.We can offer one-time exchange without restocking fee for the items that have not been worn or tampered with.
But the customers will be required to pay the shipping fee of sending the item back to us.

After we have received the returned package from you we will then ship the exchanged item for free.
5.For any price differences between the exchanged items, we will charge you extra or credit back the overcharge.

6.Customers will have to pay customs fee resulted from not following our return instructions.

Rush Exchange:

1.You can place a new order and receive your refund when the original item arrives back.

2.Place a new order online, we will prepare the new hair while waiting for the return. Your new hair will be shipped to you after it is finished.

3.When we receive the returned product in original condition, we'll issue the refunds or store credit that has the delay.
Return Policy


Email jessiesselection@gmail.com within 30 days to make an application for return. Emails received after 30 days will not be taken into consideration.

Please email us with photos of the hair for our reference. We will reply with return instructions after confirming it's in consistency with our policies.

Any packages posted without our consent will not be accepted.

The shipping fee of return would be paid by customers.

There won't be any restocking fee charged.

Customers will have to pay customs fee resulted from not following our return instructions.


Repair Policy



REPAIR SERVICE

1. Every customer can enjoy a one-time free repairing service within after-sale three months (except the damage caused by improper use ).

2. Repair services after 3 months will be charged a fee that depends on what kind of repair needs to be done.

3. Please email jessiesselection@gmail.com with pictures before you return it we have to make sure whether it can be repaired.

4. We will initially determine the cause based on the photos, specific reasons and repair methods will be given after wig is received and checked by professional staff.

5. The repair costs will be on the customers if the damage is the result of inappropriate use.

6. Customers are responsible for the return shipping fee.
Contact Info:
Whatsapp:+ 86 13253748787
Email:jessiesselection@gmail.com

Exchange & Return Address:
Yan'an South Road No.2400 ,Xuchang City ,461000,China


Orders ship within 24 hours. We offer Express shipping ( free shipping ) which takes 2-4 bus days ( 2-4 Business days in USA, others is 3-5 days ). The Express Shipping includes UPS, DHL and Fedex. And you can receive a notification after shipped out.
NOTE: PO.Box is not accepted. Don't use a PO.Box as your shipping address. Otherwise the package can not be delivered.
And, you need to add your phone number when you file the shipping info. 
The answer is Yes. We have sold hair for years, we only sell 100% human hair. Here are two methods to test if your hair extensions are human hair:
Test it by burning: The synthetic or fiber hair will be melted with the black smoke as soon as you burning it. But the 100% Remy human hair will immediately catch fire, burn nearly instantly curling into a little ball, and smell like burning hair.
Use your fingers to feel: There is a layer of hair scales on the surface of the hair, it is a bit like a fish scale. When it is touched, it feels very smooth, but when you touch it in reverse, it feels not very smooth. This is also a very professional way to distinguish true human hair.
All of stock is standard medium, it is 22.5 inches. And it has adjustable straps. Normally it can match the head of most people. If you have a very large / small head (only for 360 wig, full lace wig can't be customized), you can leave a note in your order for that, but it needs $10 fee for the additional service (we will send you an invoice for the $10), and it needs 2 more days to be shipped out. 
Depending on how full you want your hair to look, anything over 16" we would recommend purchasing 3 bundles. Anything under 16" 2-3 bundles will work out fine for a nice full look. If you plan to buy bundles with a frontal/closure, normally 2bundles is okay, 3bundles is fuller.
360 frontals provide coverage from the hairline around to the nape it mimics a real hairline all the way around the head. 2/3 Bundles will be needed to for full look.
Treat this hair just as if it was your own hair.
1. Use good shampoo and hair conditioner to care the hair. It's important to keep the hair soft and shiny.
2. You could use gel or spray styling products to keep the hair style.
3. Olive oil will be a good choice to keep the hair healthy.
The hair care oil is used to keep the hair more softly and add luster. Most of the customer uses it, but get more tangle. So when we use the oil, we need to give the hair good care, such as after we wash the hair, after conditioner and spray the nutrient water, when the hair is almost air dry, we can use one or two drops of hair care oil on the hair surface especially the ends. The oil we suggest the L'Oreal hair care oils.
It could be caused by dry hair. Please make sure to wash & condition your hair at least once a week, twice a week is better. Brazilian virgin hair Comb the hair from time to time. You could go to your stylist for further suggestions.
The 360 wig is pre-sewed by the machine with 360 frontal and bundles, which is same as what you bought the unit and sewed into a wig by yourself, and there is the tracks on the back side, so that's why we called it breathable wig. And you can call it frontal lace wig, You can make a ponytail, but if you want make the ponytail or bun to the upside we will suggest you the full lace item then.
Yes, all hair we sell is virgin hair, so you can straighten / style it with flatiron/curler, and you can dye it as well. It is noteworthy that you need to pay attention to the time. DON'T Overtime.
The answer is YES. All of Jessie's hair products are made with 100% human hair. They can be permed, dyed, bleached anyway. But be remember that all of the electric treatments with hair will cause varying degrees of damage. so if you are not good at it, please let the professional hairdresser do it to make sure there is no damage to human hair.
Please check this Length Reference ( If you bought wavy or curly hair, you need to straighten it up before measuring its length ):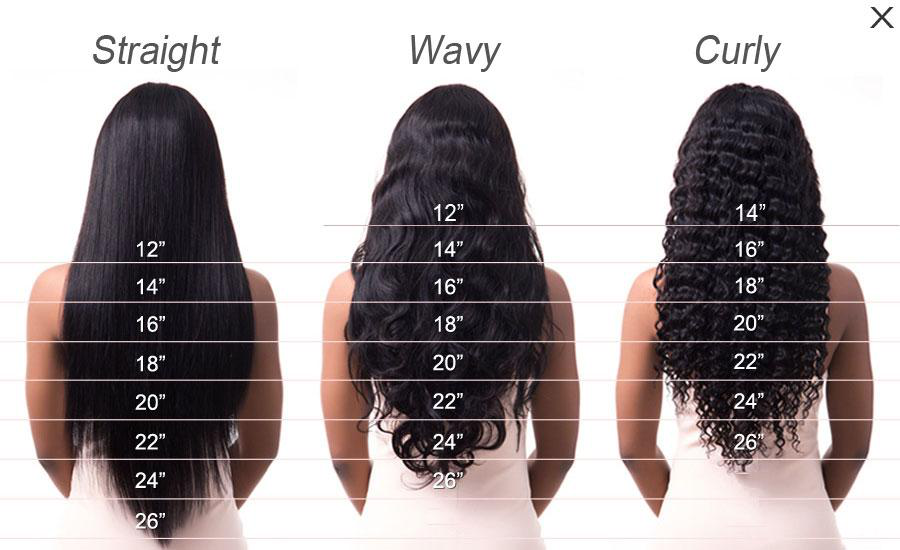 We only have the color #1b( natural black ) in stock, if you want other colors, you can send us an email: jessieswig@gmail.com , And you'd better provide a pic of the color you want. Normally, we provide coloring service for some colors.
Normally it depends on your method/level of care. Treat it like your own hair and take very good care of it, then normally it could last longer than 18 months.
Yes, you can, but you need to contact us within 24hours via Email (Before Shipped) , if not, it will be charged a processing fee.
Usually you do not need to pay taxes, but if your country's customs is more stringent, you will be charged a certain amount of duties. We usually try to avoid tariffs for you as a low-declared invoice with parcels, however, it is not 100%. You will need to pay the duties if the custom still charges customs duties. Countries with more stringent customs authorities include: Germany, Italy, South Africa, almost all South American countries, UK( occasionally ), Canada( occasionally ).
Email is the best recommendation, and you'd better write the most urgent question as the email title, and concise. The imessage/phone is the second option.
You can send an email to us, title as "Return + Order Number + Reason", we will response ASAP.  If you don't want your order /or you place wrong order/ or want a longer length/ you would like to exchange the order , you will pay for the return charge, and if you want refund will be reduced the 20$ from your amount (Shipping Fee).
Product Details
Human Hair Type
ponytail

Hair Color
Natural Color #1B #27  #T1b/4/27
Texture
afro kinky straight

Hair Length
16-30inches

Pack
1 bundles
Hair Weight
95-100 Gram/Bundle
Hair Material
100% Virgin Human Hair
Can be dyed&bleached:
Yes
Last For:
More than one year